About me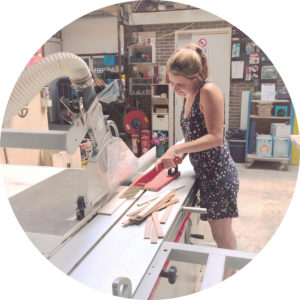 After over 10 years working as landscape and stock photographer I started a new adventure as woodworker around 2019 / 2020. I make various objects, from small toys to built-in closets. I collect scrap wood and old, discarded furniture and use it for the smaller objects I make.
In 2023 I received my vocational degree as furniture maker at the HMC in Amsterdam.

Since December 2020 I'm renting a working station at Contact in Amsterdam. A collective of interdisciplinary creatives, with a shared workshop and a great community vibe.
The name TOEL came into existence in 2019 when my oldest son Jacob, then 1 year old, called a chair ('stoel' in Dutch) 'toel'. His younger brother Tobias did the same when he was at the same age. The word always stuck with me, even though both boys know how to pronounce it properly by now!
From the dictionary Jacobian – Dutch:
toel /tuɫ/ [zn] stoel
---
Sara Winter Photography
My photography portfolio is available at www.sarawinter.com. Licenses can still be obtained through various stock libraries.